Trust and experience go a long way.
Over 45 Years of Experience
Proudly servicing residential & commercial customers in Phoenix for over 45 years!
Guarantee on All Work
All our work is backed by our 100% guarantee.
BBB Rating
We have an A+ rating with the Better Business Bureau.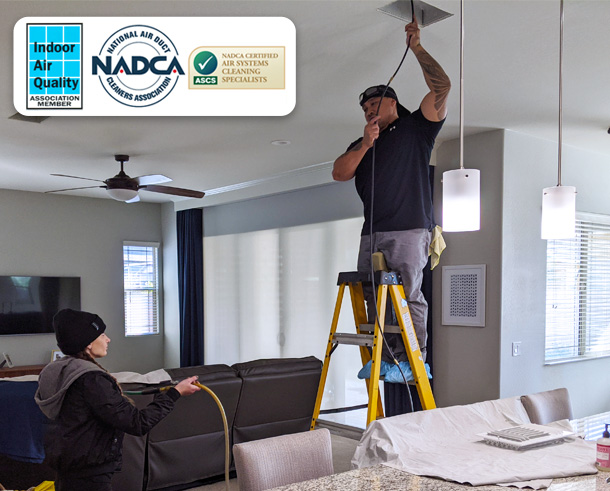 Air Duct Cleaning
12-step air duct cleaning process to eliminate all dust, debris, and obstructions from your home's air ducts.
Remove registers and clean

Visually check ductwork for leaks, seal as needed.

HEPAVAC, Swab and Airwhisk system

Apply antimicrobial as needed

Acid wash HVAC coils, clean the heater, the drip pan and drain line
Our awards and accreditations.
Indoor Air Quality Testing
These tests are performed by our Environmental Technicians and all of our samples are processed by an Internationally Accredited Laboratory, ensuring the reliability of the results.
We can test for mold, contamination by chemical pollutants, air exchange rates, and ventilation parameters. We can then recommend a course of action to relieve Sick Building Syndrome (SBS) or Building Related Illness (BRI).
Test your air for signs of mold or chemical pollutants.

Test your air exchange rates and ventilation systems.

Recommend safe and cost-effective treatments to resolve any indoor contamination.
Dryer Vent Cleaning
As your clothes tumble around in the dryer, they are continuously contributing to a stockpile of lint and dust in the dryer's ductwork.
At any moment, the heat from the dryer can set that lint on fire, causing your whole house to go up in flames. Dryer ducts typically need to be cleaned once per year—sometimes more if your household does an excessive amount of laundry.
To avoid the hassle and the allergens involved with cleaning the ducts yourself, hire us—your local dryer duct cleaning experts.
Why call us for dryer vent cleaning?
Significantly fewer dryer repair problems

Reduced potential for dryer fire

Delinting will pay for itself in electricity savings